Agricultural Commodities Focus is a monthly series published by Hedder.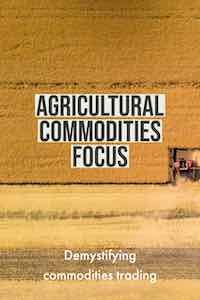 About the author:
Doug Christie, an Agricultural Commodities Fellow at Hedder, is a former executive leader at Cargill and an agribusiness professional. He has been managing agribusiness and trading commodities for over 30 years. Read full bio.
Why choose this series:
Agricultural commodities are known for their volatility and differing supply-and-demand cycles. Agricultural Commodities Focus demystifies the complexity of commodities trading, bridging the knowledge gap between institutional players and retail traders.
This series focuses on the main agricultural commodities: wheat, corn, soy, oils, oilseed meal and cotton. Readers will learn how today's market and environmental forces are impacting price trends, product yields, trade flows and supply-chain issues. This series also takes you inside the futures markets, and looks at how institutional money and corporate players approach their commodities trades.
Whether you are a serious investor interested in trading agricultural commodities as an alternative asset, or an industry stakeholder looking for a nuanced understanding of the complex industry environment, this series will have something for you.
What you will learn as a reader:
Deep-domain expertise from a former Cargill executive leader with more than 30 years of experience managing agribusiness and trading commodities.
An insider's guide to identifying key market forces and environmental forces, and their impact on agribusiness.
The interplay between geopolitics and the supply chain of agricultural commodities.
How to read the futures markets, and the difference in approach between institutional money and fundamental players.
How to access USDA resources, including their coverage by crop, weekly/monthly/annual reports and global coverage, along with non-US and non-government sources.
How to understand the supply chain of agribusiness, including key drivers of freight prices, and storage and quality considerations.
What you will get from this series:
Monthly Deep Dive (basic, premium) – Flagship deep-dive research that discusses current market fundamentals and emerging supply-and-demand trends.
Weekly Commentary (basic, premium) – Weekly quick thoughts on important developments.
Monthly Q&A (premium only) – Subscribers can submit any questions on agricultural commodities, and the author will share his views on these. The Q&A will be available to subscribers so that you can also see questions raised by others.
What Doug is Reading (premium only) – A fortnightly list of articles and reports that the author has been reading, so subscribers can understand the viewpoints better.